IGF board member Beatrice Stude is currently in the UK and brings back insights that can also be applied to the cycling situation in Austria and Vienna. Today the six and last part of "Lessons from Britain":
Oxford, only about 100 kilometres from London, is a paradise for cyclists compared to London. It shows that the right or non-existent national laws for cycling in combination with the corresponding local conditions can create almost optimal conditions. This goes so far that in rush hour traffic, car drivers seem to merge into the cycling traffic.
This summer, cyclists will blow up the cycle paths in Vienna and are likely to join the road traffic – as the use of the cycle path has become unreasonable. A timely reaction on the part of the government, specifically the abolition of the obligation to use cycle paths as a first big step, would be nicer. A second step on the part of the city government would be the abolition of the parking space obligation, because whoever builds parking spaces will reap motorised individual traffic, car traffic. A look at Oxford shows how a shortage of parking spaces and limited access for motorised private transport prepare the ground for cycling and pedestrian traffic.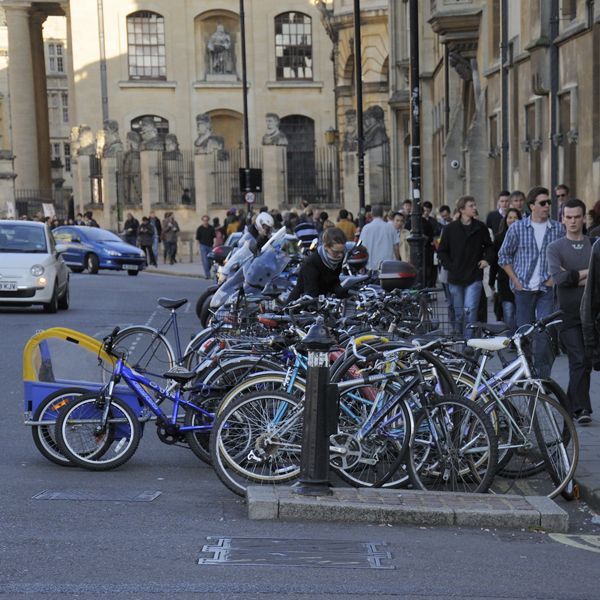 One fifths students
150,000 people live in Oxford, of whom around 30,000 are full-time students at the 38 public and 6 private colleges, each with attached halls of residence, which together form the University of Oxford. The comparatively small-looking city centre is surrounded by a green belt of recreational and sports areas belonging to the colleges, which are adjoined on the outside by further residential and commercial areas. The whole area is enlivened by the Thames and numerous canals.
There is no compulsory wearing of helmets in Great Britain, whether for young or old. A compulsory use of cycle paths is also unknown to the British, and a limit on alcohol consumption for cyclists is also missing. A retired Oxford-based policeman explained to me that originally all the laws were aimed at carriages, vehicles with four wheels. With a smile, he added that he also always rides his bike to the pub.
In addition to these benevolent national framework conditions, there are also ideal local ones from a cycling perspective:
Centre closed to motorised private transport: only cyclists, municipal bus services and taxis are allowed to enter, delivery traffic is partially restricted in terms of time
Pedestrian zones can be cycled through in the morning and evening: Cornmarket and Queens Street are only closed to cyclists from 10:00 in the morning until 18:00 – during this time, however, even pedestrians often have a hard time getting through
Speed limit 20 mph (equivalent to 32 km/h): to a large extent on main roads especially with lots of businesses
many parking/locking-off facilities for bikes: if you include the iron fences where locking up bikes is allowed or at least tolerated – at certain times even free spaces at the latter are scarce
Few car parking spaces in the centre: owning a car makes little sense, especially for students, and private parking garages are almost non-existent due to the almost complete coverage of historic or old buildings
extended parking ticket: £50 per year and car (equivalent to over €60) to be paid, from the third car £100 and from the fourth car £150, if more than two cars are allowed
the city centre is a short-stay parking zone: parking fees start at £1 for up to 30 minutes (equivalent to around €1.25), then vary so that you have to pay up to £4 for two hours
expensive car parks: between £2.40 and £3.90 an hour, over four hours £11.50 to £16.70 and 24 hours up to £30.30 (equivalent to around €38)
high fines for parking offenders: those who pay their parking ticket within 14 days pay £50, after that £100
insufficient public transport: bus lines running radially towards the city centre and hardly any direct connections between the outer districts discourage use. The privatised public transport is operated by two competing bus companies. At the end of 2011, they finally managed to coordinate some routes and almost halved the price: Day ticket reduced from £6 to £3.70 and annual pass from £650 to £350
In rush-hour traffic, it is usually even faster to walk, without exaggeration. A daily distance of about 6 kilometres from one of the outer residential areas via the centre to another part of the city takes 20 to 25 minutes by bike, by bus sometimes more than one and a half hours. The very narrow multipurpose lanes that are sometimes painted on the side of the road help here, as they make it easier to cycle along the avalanche of cars.
Motorists and cyclists lead an equal existence. The mutual communication and consideration is immediately noticeable, at least to anyone who has ever cycled in London. Here and there you can still see incoherent cycle lanes painted on the pavement, but they are almost completely ignored by cyclists and pedestrians. Especially by the latter, and rightly so, as there is hardly any pavement left next to them.
If you want to avoid the motorised traffic, you can cycle through the large green spaces and sports facilities or along the narrow paths along the Thames or one of the many canals. The pace is slower there, as you share the paths with pedestrians, but it is a nice alternative from time to time. Sometimes you have to dodge the trainers who are shouting instructions to their rowers on the Thames.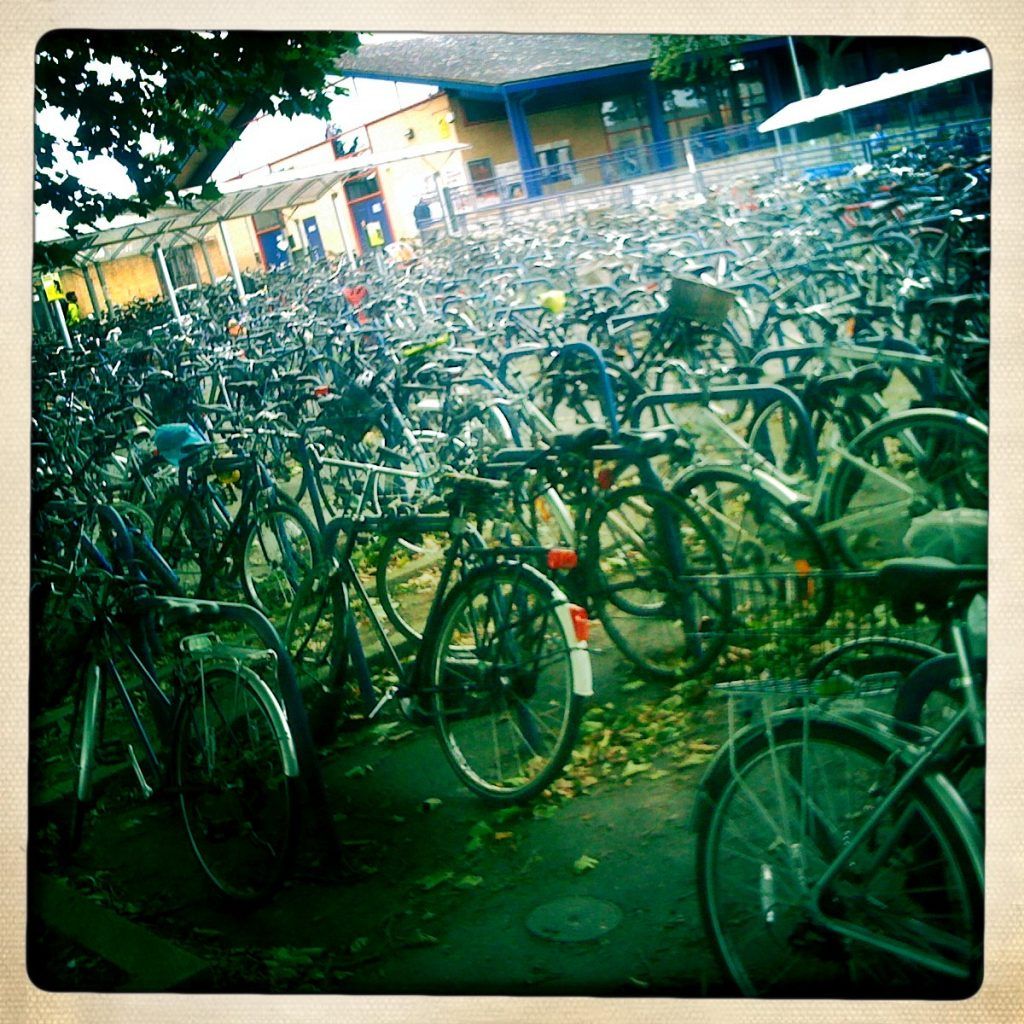 ---
IG Fahrrad became Radlobby Wien.
More Lessons from Britain
More information